Personal Injury Lawyer in Atlanta
If you have suffered a personal injury in or around Atlanta GA, it is to your advantage to contact an Atlanta personal injury lawyer that is well versed with personal injury laws related to Atlanta Georgia. Personal injury lawyers cover a wide variety of injuries. To name just a few, the Bethune Law Firm handles the following personal injury cases:
When Do I Need to Get a Personal Injury Lawyer?
An experienced personal injury lawyer can help get you the compensation you deserve. Whether your injury causes a major inconvenience to you, a painful experience, or a debilitating condition, the best personal injury lawyer can help you get the best compensation for your situation.
Do not trust hearsay, do your homework, research a list of lawyers in Atlanta to find the best personal injury lawyer in Atlanta that fits your personality, one that you have vetted to get you the best compensation. Find an injury attorney that you feel comfortable with.
You deserve to be compensated for your negligence injury. Keep reading to learn how Bethune Law Firm can help you get the most compensation for your injury that you deserve.
How Much Does it Cost to Hire A Personal Injury Lawyer?
Many people are reluctant to enlist the aid of an attorney after they suffer a personal injury because they are concerned about how much it might cost to hire them. Most personal injury lawyers that serve the Georgia area are willing to operate on a contingency basis, which means that you do not have to pay them unless they win the case. They will then charge you a percentage of the award the courts gave you. The percentage is agreed in advance and is typically between 25% and 40%. The fee will depend on the amount of work that the attorney needs to put in. If you reach a settlement before the case is heard in court then this will mean that you owe less than if the case goes all the way through the court process.
This pay structure means that you don't have to pay the attorney up front, and it also means that the attorney is incentivized to work harder for you because they make more money if you get a bigger payment.
Some attorneys will charge an hourly rate or even a flat fee. This might be a good option for you if you are able to pay upfront, but most clients opt for the no-risk nature of a contingency agreement.
How Long Will It Take for the Case to Be Settled?
Cases can range from simple claims to hard-fought battles. It is difficult to layout an exact timeline. No two claims will go the same way. You should put your health first. A good Atlanta personal injury lawyer will tell you to put your health first. It is vital that you get the care that you need for your recovery. Trying to seek a settlement while you're still in recovery could lessen your claim. The lawyer will work with your physician and keep track of your medical costs, though.
After thinking about your expenses and getting your records, the lawyers will review all of the information that they have available to them and categorize all of your expenses and damages. They will use your medical records to describe how your life has been altered as a result of the injury.
Should I go to Trial or Accept a Settlement?
The insurance company has the option of fighting the case in court or offering a settlement. Sometimes they will go all the way to court. Often, they will offer a low settlement hoping that you will accept it, and if you want more compensation you will have to go to court. Our team of lawyers will help you to decide whether you should accept a settlement or go to court. They will work with you at each step of the process.
Sometimes, the insurance company will wait until the last moment to offer a settlement, then make an offer hoping to avoid court fees and expenses. Contact us if you are offered a settlement, and we will help you decide whether it is worthwhile to accept it.
Bone Fracture Injuries
Victims that have suffered from bone fractures or breaks caused by the wrongdoing of another person may want to ask the advice of a personal injury lawyer to see if they have a right to seek compensation. Atlanta personal injury lawyer Terrence R. Bethune founded The Bethune Law Firm to help injured Georgia residents located in and around Atlanta seek the compensation they deserve.
Broken bones are one of the most common injuries across age groups. For older people, hip fractures caused by falling are extremely common. These painful injuries, many caused by the negligence of someone else, sent about 258,000 people aged 65 and older to the hospital in 2012, according to the Centers for Disease Control and Prevention. But it is not just older people who can suffer from broken bones. Falls, which often cause bone fractures, are the leading cause of child injury in the United States.
VICTIMS OF WRONG DOING MAY SEEK COMPENSATION IN COURT
Broken bones can be caused by a number of factors, including a car accident, or motorcycle accident, or truck accident. An injured person, as a result of a car accident, may choose to file a negligence lawsuit against the person or entity responsible for the car wreck injury. Georgia law requires that negligence victim prove that the defendant breached a duty that he or she owed to the victim and that this breach caused the victim's injuries.
People injured in pedestrian accidents often file negligence lawsuits as well. As is true for other victims of vehicle accidents, an injured pedestrian first must prove that the driver of the car that injured him or hear breached their duty of reasonable care. For example, a driver who ran a red light, a driver who was texting while driving, or a driver who failed to yield all have likely breached this duty. If that carelessness caused the driver to hit and injure a pedestrian, the driver can be held liable.
Meanwhile, a person who suffered a broken bone from a slip and fall that occurred on the property of a business could file a premises liability claim. To get damages, the victim must prove that the owner of the property knew or should have known about a dangerous condition on the property and failed to repair it. The victim also must prove that the dangerous condition caused his or her injury. A slip and fall case shows how these rules work in action. A Georgia grocery store may be liable if it failed to clean up spilled food, for example, and a customer broke a bone after slipping and falling on the floor.
BONE FRACTURE VICTIMS MAY COLLECT DAMAGES
Defendants found liable in a vehicle accident or premises liability case may have to pay damages to the victim. These damages reimburse the victim for the objective costs of his or her injuries, including lost wages, medical bills, and physical therapy costs. In addition, if the victim endured pain and suffering or emotional distress, he or she can potentially be compensated for these subjective injuries.
DO NOT ENDURE A BROKEN BONE INJURY ALONE
Georgia law allows people who have suffered a broken or fractured bone to hold those responsible for their injuries accountable. If you have suffered a broken bone, protect your rights by hiring an experienced accident attorney. Since 1997, Terrence R. Bethune has helped the victims of negligence that have resulted in broken bones and other wrongdoing collect the compensation to which they are legally entitled. To schedule your free consultation, call the Bethune Law Firm at (470) 709-0666 today.
Personal Injury Lawyer for Burn Cases
Atlanta Burn Injury Lawyers represent burn injury victims. Severe burns are extremely painful and often require intensive medical care. Whether caused by a car crash, a workplace accident, or some other event, they can inflict immense physical, financial, and emotional hardship. Victims of burns can seek compensation from the person or entity that caused their harm. Enlist the services of burn injury lawyer, Terrence R. Bethune, if you were hurt in an accident near Atlanta.
If you or a loved one have suffered burn injuries in Atlanta, Georgia, or vicinity, as a result of another person's negligent behavior, you could have grounds to take legal action against that person. But, do not take too long to initiate legal action. Under the Georgia state's law, people who want to file a claim must do so within a specified period of time. You have two years from the date of the incident to bring a burn injury case against the at-fault party. If you fail to do so, you could lose potential compensation. Further, the longer you wait, the more difficult it is to gather important information about a burn injury.
Get a Case Evaluation from a Burn Injury Lawyer
An experienced burn injury lawyer can determine if you have a claim for damages under the state's law. Let the experienced burn injury lawyers at Bethune Law Firm help you. An injury lawyer can:
Review your medical records and reports as prepared by your doctors
Gather all the necessary evidence, including police records, fire department reports, and photographs of the scene
Retain electricians and accident investigators to establish the cause of the accident and determine who could be held responsible for your injuries
Work with relevant medical experts to investigate the extent of your injuries and the medical costs associated with future procedures
Common Causes of Burn Injuries
Burn injuries can result from a broad range of negligent behavior or an accident. When the injuries are caused by harmful or negligent behavior or another person or entity, the burn victim deserves compensation for his or her medical treatment, psychological, emotional, and physical damage, and loss of income. There is a broad range of possible causes of burns, such as:
Chemical Burn Injuries
These burn injuries result when caustic chemical compounds, such as base or acid, touch the skin. Chemical burn injuries can be serious, with toxic chemicals burning right down to the bone. Such burn injuries are sometimes the result of assault or an accident. What's more, workplaces, such as manufacturing plants, where there are large quantities of caustic chemicals, are common sites for chemical burns. If a worker fails to take the necessary safety precautions or no safety precautions are made available, business owners could be held liable for a worker's injuries.
Burn Injuries from Car Accidents
Severe car crashes can result in burns, due to the presence of gas and other highly flammable objects. Explosions and fires can lead to a deadly accident. If the car accident was the fault of a drunk, distracted, or negligent driver, victims might be able to seek compensation.
Scalding
Scalding is the result of hot liquid coming into contact with the skin. Some of the most common scalding incidences happen when hot liquid makes contact with the skin, such as spilling a hot drink or making a bath or shower too hot.
Electrical Burns
Electrical burns are usually caused by an uncontrolled short circuit or an electric shock, and they can do a great deal of internal damage, including cardiac arrest.
Compensation for Burn Victims
In some instances, an Atlanta burn injury attorney can secure a settlement before a lawsuit goes to trial. Too often, insurance companies in our state attempt to offer low settlements that do not completely and fairly compensate a victim for all the damage and pain he or she has endured as a result of burns.
An attorney might negotiate with the at-fault party's insurance company on your behalf to help you secure proper compensation. However, if the settlement negotiations do not result in a fair offer, a lawyer has the ability to take the case to court.
An experienced burn injury lawyer will try to obtain compensation for the below kinds of damages:
Non-Economic Damages for Burn Injuries
Often in burn injury lawsuits, victims receive financial damages for their suffering and pain. Such damages are aimed at compensating the victim for the physical pain and mental anguish caused by the incident. The victim may also be awarded damages for any disfigurement he or she suffered due to the burn injury.
Economic Damages
In Georgia, the law allows for burn victims to receive monetary compensation for all their medical expenses that they have incurred as a result for their accident. Economic damages usually include compensation for rehabilitation expenses and future medical costs that are necessary for the victim's recovery.
If you have been forced to miss work due to your injuries, you may be able to seek compensation for the money you could have earned if you were not injured. If you are no longer able to perform the core functions of your job, you may further be able to seek damages for diminished earning capacity.
If your burn injuries are the result of someone else's reckless conduct, the court could award punitive damages to you. These damages are aimed at punishing the negligent person and demonstrating that other people should refrain from engaging in such a manner.
Discuss Your Case With a Burn Injury Lawyer
Burn victims often have a long road to recovery, and their lives may never be the same. If you were severely harmed because of someone else's carelessness or wrongdoing, you deserve to be compensated for your injuries. The experienced burn injury lawyers at Bethune Law Firm can help you hold negligent people or entities in the Atlanta area accountable for their actions. To schedule a free case evaluation, call (470) 709-0666 or visit our contact page.
Burns Suffered in the Workplace
The burn injury lawyers at the Bethune Law Firm have experience representing burn injury victims in Atlanta, Georgia. If you have suffered workplace burns, we may be able to file a claim with the state's workers' compensation system. Under the system, employees might recover financial benefits for their workplace injuries no matter if the accident was the fault of the employee or the employer.
If a third party was responsible for the burn injury accident, such as a manufacturer of a defective product or a sub-contractor, an experienced burn injury lawyer might be able to seek damages against that third party via a lawsuit.
We understand that recovering from burns can take a long time, and your life may be permanently altered as a result of your accident. If you have been severely hurt due to somebody else's negligence or poor behavior, you have the right to seek fair compensation for your injuries and pain and suffering. Contact Bethune Law Firm to schedule a free case evaluation with an experienced burn injury lawyer in Atlanta, GA. Our burn injury lawyers will ensure that the people responsible for your burn injuries are held accountable for the incident.
DANGEROUS PROPERTY CONDITIONS
Dangerous conditions are often covered under premises liability cases related to falling merchandise, inadequate security, negligent security, or swimming pool accidents.
Georgia property owners must keep guests and customers safe on their properties. Shoppers who are injured in a restaurant or store may be able to seek compensation. Since 1997, Atlanta attorney Terrence R. Bethune has assisted victims of such accidents by litigating countless personal injury cases related to dangerous property conditions. If you were harmed due to someone else's carelessness in a mall, store, or other public place, you may be entitled to damages.
DANGEROUS PROPERTY CONDITIONS CAN BE COSTLY
Falling merchandise, wet floors, and inadequate maintenance and security all may be considered dangerous conditions from which property owners must protect customers. Even relatively minor injuries caused by dangerous conditions may be costly. According to the Kaiser Family Foundation, Georgia hospitals spend more than $1,300 per patient for just one day of inpatient care, making even a quick hospital trip very expensive.
SHOPPERS INJURED ON STORE PROPERTY MAY HAVE A CLAIM
Depending on the status of the person on their premises, property owners owe differing duties of care to visitors. Owners who invite people onto their properties for the owners' own benefit, such as restaurant or store owners, owe their customers the highest duty of care. They must keep their premises safe from dangerous conditions. If a person is injured in a grocery store, mall, or similar commercial property, due to a faulty handrail or stairwell, he or she may be able to seek compensation. The success of this lawsuit depends on being able to prove that a dangerous condition existed on the property.
A dangerous condition can be defined in a number of ways. A wet floor, loose floorboards, or relatively simple maintenance issues each could be considered a dangerous condition in some circumstances. The condition does not have to be a physical characteristic of the property. Negligent or inadequate security also could create dangerous conditions.
Once a dangerous condition exists, the injured customer must prove that the property owner either knew or should have known of its existence. To prove this, the victim can rely on factors such as how long the condition had been there. The goal is to prove that the owner should have reasonably discovered the condition through regular inspection. Sometimes, it is difficult for even the best personal injury lawyer to prove these matters. However, the Bethune Law Firm has experience in handling these matters quite effectively and will get top compensation for your injury claim.
If the property owner did not fix or warn of the dangerous condition, and the customer was injured because of it, the owner may be liable for damages. Whether the owner did enough to fix the situation depends on the circumstances. Placing wet floor signs around freshly mopped areas would be considered a sufficient response, as would warning signs around a construction area.
PERSONAL INJURY LAWYER HOLDING NEGLIGENT OWNERS ACCOUNTABLE FOR INJURIES SUSTAINED
If an injured customer files a successful lawsuit based on a dangerous condition, the court can order the property owner to pay damages to compensate the plaintiff. Some of the compensation is intended to reimburse the plaintiff for medical expenses, lost wages, and other direct financial injuries. Other damages compensate for mental and physical injuries, such as pain and suffering and emotional distress.
TRUST AN EXPERIENCED INJURY ATTORNEY
If you were harmed by a dangerous condition on the property of another person, you may be able to seek compensation. Store owners owe customers a duty to keep their properties safe from hazards, and those who fail to protect customers may face legal consequences. Atlanta personal injury attorney for slip and falls, attorney Terrence R. Bethune can help you get the compensation that you deserve under Georgia law. Schedule your free consultation today, call (470) 709-0666.
PERSONAL INJURY LAWYER FOR CHILDREN'S INJURIES
Children are especially at risk for certain types of harm. For example, the Centers for Disease Control and Prevention report that about 2.8 million children are treated for fall-related accidents each year, making falls the leading cause of child injuries. Other common causes are car crashes, swimming pool accidents, and day care incidents. No matter the source of your child's injury, Terrence R. Bethune, Atlanta personal injury lawyer for child related injury accidents, can help you file a claim in the Atlanta area and get you the compensation you need to pay medical bills and help your youngster recover.
HOLD NEGLIGENT DRIVERS ACCOUNTABLE
Depending on the circumstances of the accident, Georgia law provides a remedy for the families of children hurt or killed by the carelessness of someone on the road. In the case of a negligent unsafe driving car accident, for example, the minor's family has the right to file suit against the negligent driver who caused the crash. Most Georgia residents must avoid behavior that unreasonably endangers the people around them. Driving too fast, or not keeping a good stopping distance or failing to yield the right-of-way at an intersection, according to state laws, may constitute a breach of this responsibility, among many other examples. If that behavior caused the child's injuries, the motorist may be liable for damages.
CHILDREN HAVE SPECIAL PROTECTIONS ON PROPERTY
For situations when a child was harmed on the property of another person or entity, premises liability law may control. Specifically, Georgia has adopted the doctrine of attractive nuisance, which requires a property owner to take steps to keep children safe from hazardous conditions that may be interesting but dangerous to kids, such as swimming pools. The elements of an attractive nuisance claim are:
The owner knew or should have known that children were likely to enter the property;
The owner knew or should have known that the hazard could cause serious injury to children;
A child would not understand the danger of the condition;
The risk to children outweighs the costs of eliminating the danger; and
The owner did not use reasonable care to address the condition.
An experienced attorney can help you gather the evidence needed to prove an attractive nuisance claim. In addition, standard premises liability rules protect children as well, meaning that a child hurt by falling merchandise or a faulty handrail may have a claim without the need to use the attractive nuisance rule.
DAY CARES MUST FOLLOW GEORGIA LAWS
Another source of child injuries is day care incidents. These facilities may be responsible if they were negligent in hiring or monitoring employees, failed to adequately supervise the children in their care, or fell short of specific child care facility standards imposed by state law. Talk to a knowledgeable lawyer if your child was injured at a day care.
CONSULT AN EXPERIENCED ATLANTA LAWYER FOR YOUR INJURY CLAIM
If your child was injured by the wrongdoing of another person, your family does not have to shoulder the physical, emotional, and financial burden alone. You and your child have rights and can hold the responsible party accountable. Whether the harm occurred as a result of a dangerous driver, negligent property owner, or unsafe day care, personal injury attorney for children's injuries, Terrence R. Bethune can help you pursue the injury compensation to which you and your child may be entitled. To schedule a free case evaluation with our Atlanta firm, call 404-875-7800.
ATLANTA PERSONAL INJURY LAWYER FOR SLIP AND FALLS
Falls caused by a slippery surface can lead to serious injury. Atlanta slip and fall lawyer Terrence R. Bethune has helped slip and fall accident victims in Georgia collect compensation for their injuries since 1997. If you have had a slip and fall injury on public or private property, call The Bethune Law Firm for a free case evaluation.
FALLS ARE A LEADING CAUSE OF INJURY
Accidental falls are the number one cause of injury for adults age 25 and older, according to the National Center for Injury Prevention and Control. An unintentional fall can cause severe injuries, or even death. In the case of an injury, expenses can cost thousands of dollars in hospital bills, lost wages from missed time from work and pain and suffering.
Business owners who invite customers on their property have a duty to keep their stores, offices, or other property free from hazards. If owners fail to do so, a customer injured by the hazard can file a claim to collect damages.
PROPERTY OWNERS MUST KEEP FLOORS CLEAN
Business owners in Georgia have a duty to remove or warn of dangerous conditions on their property they know or should have known about. This includes things like liquids, holes, objects, or obstructions that may pose a fall hazard.
If a customer slips and falls, due to a hazard, and sustains injuries, the property owner may be held liable. To prove liability and win a slip and fall lawsuit, a plaintiff must prove:
The property contained a slip and fall hazard;
The business owner knew or should have known of the slip and fall hazard;
The business owner did not remove or warn of the hazard; and
The hazard caused the plaintiff's injury.
For example, if an employee mops the floor of a grocery store but does not warn customers that the floor is still wet, the grocery store may face liability if a customer slips on the wet floor. Likewise, if part of the grocery store's tile floor is broken and could be a tripping hazard, the store may be liable if someone trips and falls. Ditches or holes from construction may also pose a hazard that could leave a property owner liable.
Whether the business owner knew or should have known about the hazard is often an issue to be resolved in slip and fall cases. For example, if a grape falls on the floor of a grocery store, the owner may not have been able to remove the hazard if it has only been on the ground for a few seconds. If you have questions about a property owner's duty in your slip and fall case, call the Bethune Law Firm to speak to a personal injury lawyer that is experienced and knowledgeable about slip and fall accidents to get a FREE case evaluation.
VICTIMS OF NEGLIGENCE MAY RECOVER DAMAGES
Plaintiffs who bring a successful slip and fall lawsuit within two years of the accident can recover compensatory damages. These are damages that will compensate the plaintiff for her bodily, financial, and emotional injuries. Some examples of compensatory damages are hospital bills, lost salary from missed work, and emotional distress. In rare instances, slip and fall plaintiffs may be eligible for punitive damages.
CONTACT AN EXPERIENCED ATTORNEY
People who have fallen on the property of another person have a right to seek compensation for their injuries if the property owner did not fulfill her legal obligations. If you have been injured because of a negligent or careless property owner, whether it is for a slip and fall, or any other personal injury mentioned above, contact Atlanta's personal injury lawyer Terrence R. Bethune to fight for the compensation you deserve. Call today, (470) 709-0666 or fill out our contact form to set up a free case evaluation.
Annual Scholarship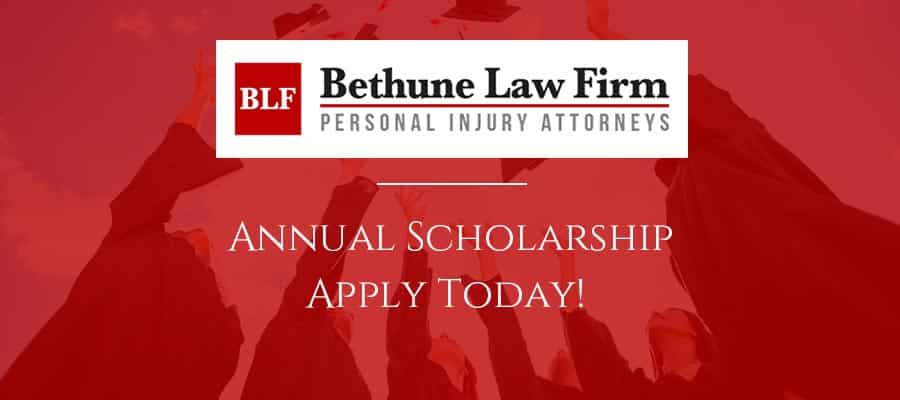 Let's get started
with your FREE consultation.